About This Site
Upcoming 1704 Commemorative Events
(last updated February 2004 - additional events and information will be added.)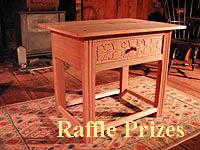 Win one of several handcrafted
reproduction raffle items!
• February 2004 - Captive Lands, Captive Hearts
Listen to a five-part series from public radio about the events of 1704, reported and produced by Susannah Lee and WFCR. This program will air in installments Monday through Friday, February 23-27, 2004, with a special Sunday, February 29th version in its entirety; times to be announced. Or, listen now from this website.
• February 28-29, 2004 - Anniversary event at Old Deerfield
Talk with authentically dressed French, Native American, and English re-enactors. These re-enactors will discuss and describe this controversial attack that was rooted in cultural and religious conflicts, personal and family retribution, genocidal expansion, and trade and kinship ties. See fireplace cooking demonstrations, candle dipping, craft displays; listen to period music; enjoy many other activities depicting early 18th century life. At the Indian House Memorial, 107 Old Main St., Deerfield. Adults $14; children ages 6-12 Free. Additional special commemorative activities to be announced. Saturday & Sunday, 10 a.m. to 4:30 p.m. Click here for details.
• February 2004 - 1704 Anniversary Exhibit, A joint project by PVMA/Memorial Hall Museum and Historic Deerfield, Inc.
This exhibit will open in the Flynt Center in Old Deerfield in February 2004 and will interpret how the 1704 attack on Deerfield and other colonial conflicts have been "remembered". Using visual and audio resources, as well as artifact collections from Memorial Hall Museum and other sources, topics such as Native American representation, civic engagement and dialogue, and connecting this history to attitudes today will be explored in the year long exhibition. (Exhibit Information 413-774-5581)
• February 29, 2004 - Leap Year Day. Formal launch of the PVMA/Memorial Hall Museum Web site, Raid on Deerfield: The Many Stories of 1704.
Events in Old Deerfield will include the relighting of a memorial flame by the Town of Deerfield with Native descendents from Quebec in attendance.
• Feb.2004 - September 2004 - On-going Exhibits in Deerfield
Exhibits will continue throughout the summer into the fall of 2004 to commemorate and interpret the events of 1704. Special tours of Historic Deerfield, Inc. and the site of the 1704 Attack. Details to be announced.
• April 2004 - Arbor Day planting of a peace tree
from the Kanienkehaka (Mohawk) Homeland in Quebec.
• April 14 - 18 - Staged workshop reading of The Captivation of Eunice Williams
An opera based on the life of one of the captives taken during the 1704 raid on Deerfield. 8:00 pm Curtain Theater, University of Massachusetts, Amherst.
• April 26-30 - Wigwam at Indian House Memorial
Using period tools, Jeffrey Kalin of Primitive Technologies, will erect a historically accurate Native American structure on the grounds of the Old Deerfield Children's Museum at Indian House Memorial.
• June 11-13, 2004 - Gathering of Scholars at Deerfield organized by Historic Deerfield, Inc. and the Omohundro Institute of Early American History and Culture.
• June 26 & 27, 2004 - Town of Deerfield observance of the attack. Native representatives from Quebec will be in attendance. Events planned include: an international quilting bee; commemorative road race from Deerfield to Hatfield and back (in the spirit of the Greek Marathon, this race will retrace the route run by towns-people to bring English help in 1704.); organ and harpsichord music from New France in the First Church of Deerfield. Sunday, June 27 closing event "Peace on the Common" in Deerfield.
• July 2004 - Trip to related Canadian and Native American sites
Join Donald R. Friary, Emeritus Director of Historic Deerfield, for an eight day exploration of the story of February 29, 1704 during this 300th anniversary year of the Attack on Deerfield. The tour will depart Deerfield and follow the route of the 1704 captives, visiting French seigneuries and Native villages that contributed men to the force that attacked the frontier settlement at Deerfield. For more information visit Historic Deerfield or contact Don Friary at dfriary@historic-deerfield.org.
• July 9-11, 14-18, 23-25 - World Premier of The Captivation of Eunice Williams
This is the fully-staged premier of an opera written by Harley Erdman, chair of the University of Massachusetts Theater Department; composed by Paula M. Kimper of New York, New York; directed and produced by Linda McInerney of Old Deerfield Productions. Funded in part by the International Music and art Foundation in Vaduz, Liechtenstein. The opera is based on the life of Eunice Williams, who was a captive taken during the Deerfield raid and who chose to live her life with the Natives. She returned twice as an adult to visit her English family in the 1700's. Her Native American descendents still live in Quebec.
Presented in the air-conditioned Black Box Theater on the Deerfield Academy Campus. Tickets: $12- $15, subject to change. Call 413-774-7476 ext. 10 for tickets. Visit the Captivation of Eunice Williams website.